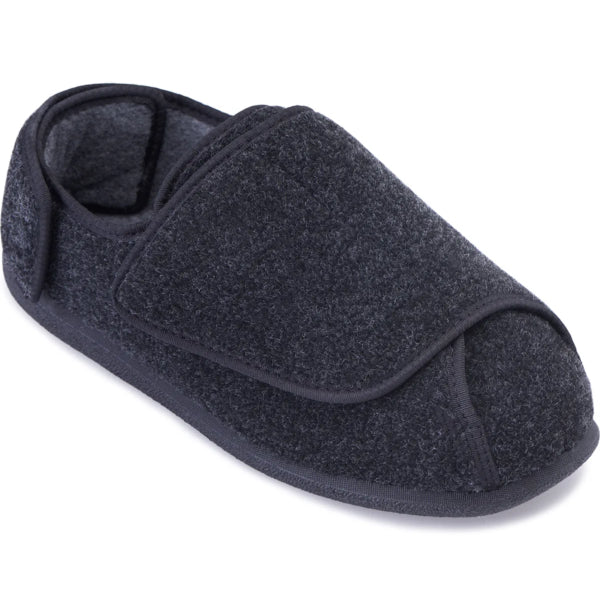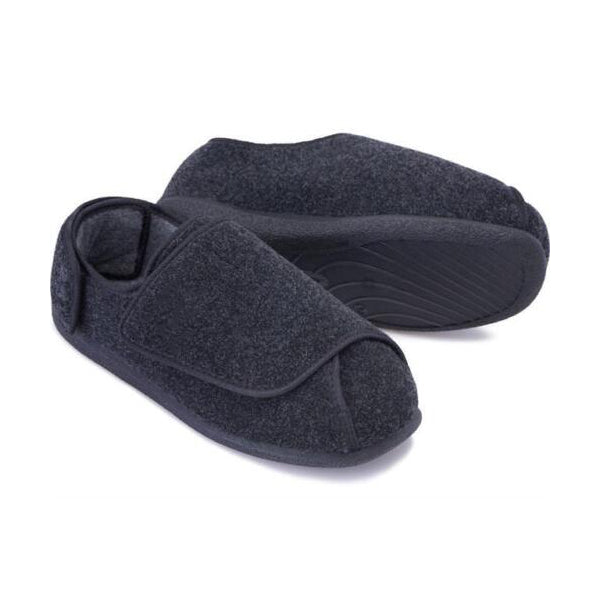 Ernest. An ultra-adjustable versatile wrap-around slipper for very swollen or heavily bandaged feet
This versatile, wrap-around style is designed to fit extremely swollen or heavily bandaged feet. It has a touch-fastening strap at the back of the foot as well as across the top so it's fully adjustable. It's really easy to put on as it opens out completely flat and can then be 'rolled up' around the foot to give a snug and secure fit. The deep, seam-free front accommodates swelling, bandaging, bunions and problem toes with ease while the cushioned footbed adds to the comfort.
Why you'll love Ernest...
Slipper & insole machine washable at 30˚C (Remove insole before washing)
Cushioned insole is removable for extra depth or to fit an orthotic
Flexible rubber sole is suitable for indoor & outdoor wear
Soft, cushioned lining for extra comfort
Diabetic-Friendly
Features the increased stability, underfoot cushioning and heel support of a house shoe without compromising on the luxuriously soft 'round the foot comfort' and lightness of a slipper
Strap extensions

 

are available for especially swollen feet
Care Guide
Machine wash at 30°c then stuff with newspaper or tissue to help them maintain their shape and allow them to dry naturally. Don't put them in the airing cupboard or near a fire or radiator.
NB Please ensure you remove the insole before washing.
FITTING EXPERT REVIEW
These slippers are perfect for the most swollen or bandaged feet. They are suitable if you have tried our other mens slipper styles but still need more room. They open right down the front so you can just place your foot in and wrap the uppers around them. If these are still too tight, take a look at our Jonny style.
Liz Quartley, Cosyfeet Shop Manager & Fitting Expert
Sizing Guide Cosyfeet Slippers & Shoes are designed for feet that can't fit into ordinary footwear. They are extra wide and extra deep so they're very roomy.
All our women's styles are made with an extra wide fitting of approximately 6E, and our Mens styles with an extra wide fitting of 3H.
But don't worry if you don't know your width size as many of our styles are adjustable. This means they're flexible enough to fit feet that swell up during the day or if one foot is more swollen than the other.
Unlike many other brands of wide fitting footwear, Cosyfeet slippers & shoes also benefit from extra depth which means they're particularly good at fitting problem toes and bunions or feet that are very swollen.
To put it simply, all of our footwear have been designed to be roomy enough to comfortably fit a whole variety of foot problems and conditions. Some styles are more suitable for specific conditions than others.
 What size should I order? We understand that new customers are sometimes concerned about getting the perfect fit using mail order. However, most customers find that if they order their normal shoe size (that's the size they would have ordered before they experienced problems with their feet), a Cosyfeet shoe will provide the extra room and comfort they're looking for.
If you normally take a half size and we don't offer a half size in the style you want, we would suggest that you order the smaller full size.

All our slippers are adjustable so whichever style you decide to buy, you'll be much more comfortable than with a standard slipper.

If you find your swelling gets worse during the day, it might be worth choosing a style that has easily adjustable straps.